Traditionally "The sea is a male-dominated industry".  Though it is still rare to find women at sea, with statistics showing that women make up only an estimated 2% of the world's maritime workforce, things are changing with more women joining seafaring and becoming valuable members of ships' crew.
First Female Cadet To Join Dorian LPG
The main topic on this year's World Maritime Day was "Empowerment of Women in the Maritime Community", emphasizing the importance of raising awareness of gender equality and highlighting the worldwide contribution of women in the maritime industry.
Leading the way of this positive trend is our renowned principal Dorian LPG, who is committed to employing female cadets and officers on their vessels. 
Pasat is proud and excited to be able to announce the endorsement of our first female cadet to join Dorian LPG.
Ms. Berta Micic is a motivated and hard-working individual from the Island of Ugljan who graduated from the Faculty of Maritime Studies in Zadar.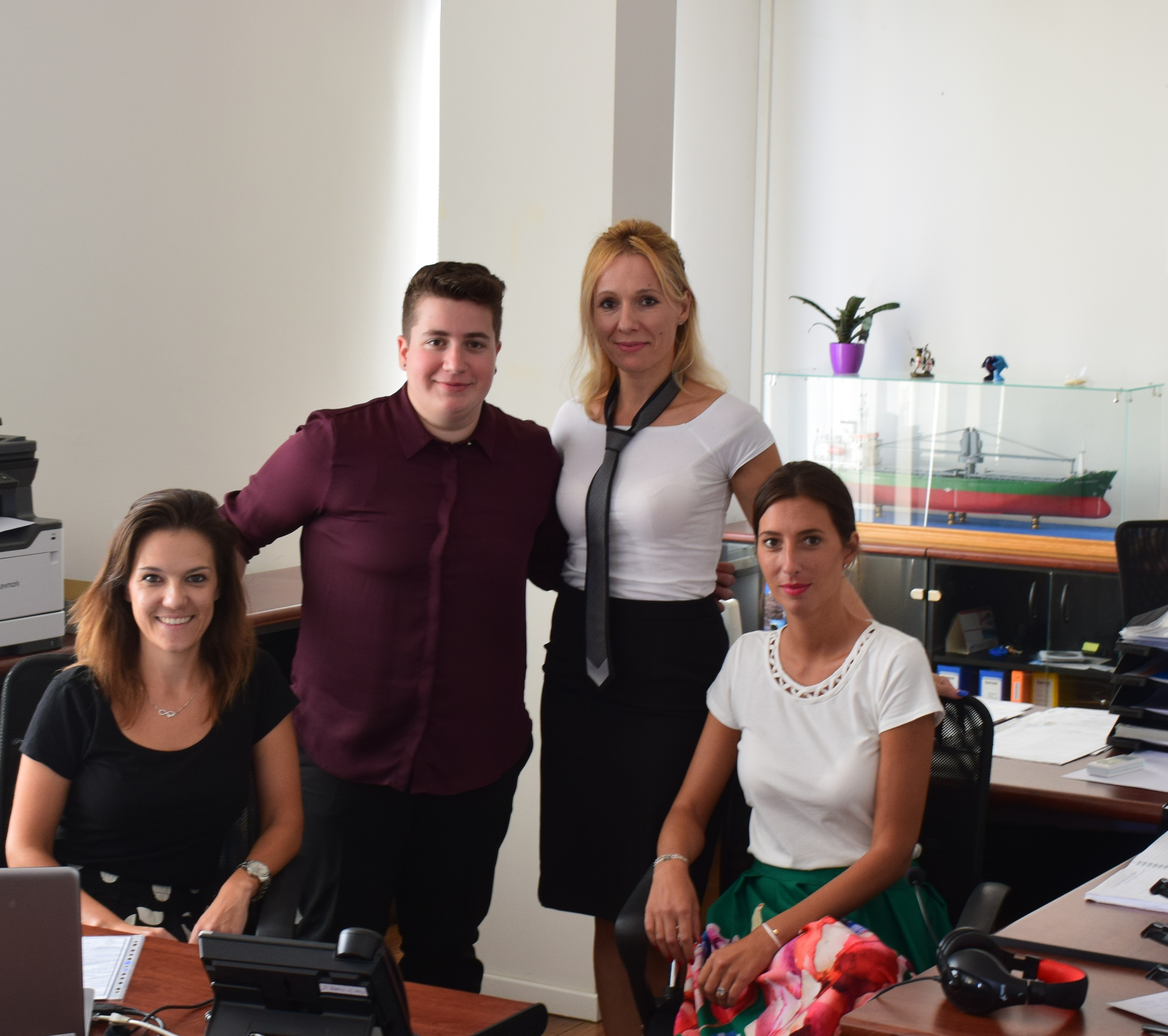 From L to R: Marina (Fleet Officer), Berta (Dorian LPG Deck Cadet), Kate (Crew Manager), Mariela (Senior Fleet Officer)
Interview with Dorian LPG First Deck Cadet
When asked if intimidated by entering an industry dominated by men, Berta casually replies:
"I'm used to competing with boys. When I was nine-years-old I started playing soccer with boys. I really liked it. Later on I played for an all-female team called "Donat". The passion for this sport resulted in me getting an official referees license and now I'm the ref for county league matches for younger ages."
Impressive!
During Berta's recent visit to our Office, the whole team wanted to learn more about her. Below we bring our interview in its entirety.
Berta, first of all, congratulations on your cadetship with Dorian LPG.
Thank you! It's a huge honour and opportunity.
Tell us, why the Maritime Industry in the first place?
I was raised and grew up on an island so from the very beginning I was surrounded by sea. I was introduced to boats at a very young age since it was the only way to get to the mainland. And that's when I fell in love. Also my grandfather was a seafarer, then my father and then my brother. I guess you could say it's in my genes.
It is a fact that the quantity of male seafarers is much higher than the quantity of female seafarers. Is it a good time for change?
I prefer quality over quantity and I definitely believe that women seafarers have the quality to perform equally to men, if not better. Generally, I am not burdened with the whole male-female quantity issue. I believe that everyone should do what they love. If a woman loves the seafarer life, then do it. Just like men. People need to have the right to do what they love.
How did you react when you found out you were going to be a deck cadet at Dorian LPG?
I couldn't believe it. I was full of joy. I celebrated all day.
Have you heard of Dorian LPG before?
Of course I have! Only positive things. And now when I'm telling my seafarer friends where I got my cadetship, they're all really happy for me. 
Dorian LPG is committed to employing female cadets and officers on their vessels. How do you feel to be the first selected female in that mission, the pioneer?
Excited. But all I want is to fulfill their expectations and do my very best.
What do you expect of this Cadetship?
A lot of hard work and everyday opportunities for learning new things. I'm also looking forward to working with a multi-national crew.
So… is it your final goal to become Master?
(Smiles) I don't want to get ahead of myself. It is a long path between being here and becoming a master but I will do my best. I will work, learn and push hard every day and we will see where it brings me. Maybe one day….
Seeing your enthusiasm and professionalism, we strongly believe you will.  And for the end – do you have a message for the young females who are still not quite sure whether to become a seafarer?
If you love it – do it! Nothing's stopping you. Times are a changing in the maritime industry and women have much more opportunities to do what they love than ever before.
Thank you Berta. It was a pleasure meeting and talking to you! Good luck and Calm seas!
Future Female Seafarers - Follow in Berta's Footsteps
Berta's positivity and enthusiasm left an impression on all of us. Since the above interview, Berta has embarked the vessel and we take this opportunity to wish her calm seas and the very best during her cadetship with Dorian LPG.
And to all the females who want to become seafarers, Pasat's advice to you is – Follow in Berta's footsteps, send us your application!